Getting Here is Easy
Plumas County offers enchanting landscapes, solitude, and endless ways to play—an ideal place to reset and reconnect with nature.
Whether you come for a weekend getaway or an extended stay, escaping from it all is a lot closer than you think.
City
Chico
Reno
Sacramento
San Francisco
South Lake Tahoe
Distance
1.5 hours
2 hours
2.5 hours
4.5 hours
2.5 hours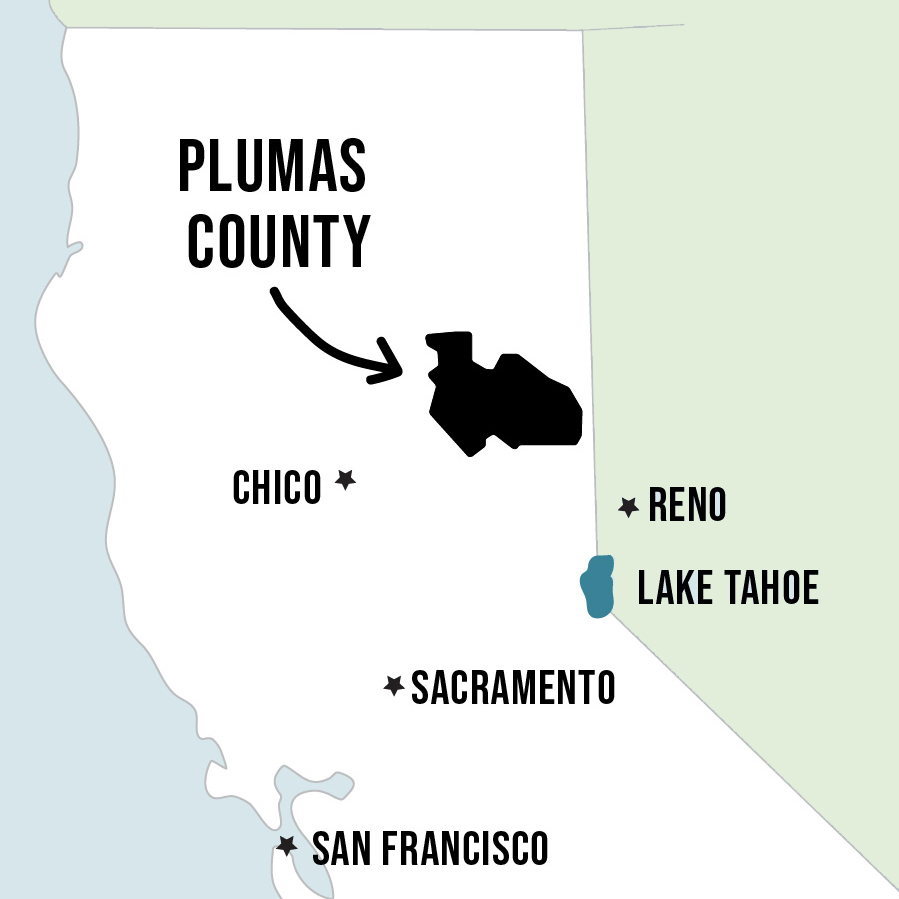 Regions of Plumas County
Four distinct regions define Plumas County, each with their own alluring qualities, diverse destinations, and unparalleled hospitality. The small-town spirit of Plumas' communities captures you—inviting you to relax and step into another world. It's the perfect place to effortlessly explore the natural beauty of Northern California.
Northwest Plumas
The majestic Mt. Lassen looms over Northwest Plumas where the Cascades meet the Sierra Nevada Mountains. The region is defined by Lake Almanor, a lake with 52 miles of shoreline and year-round recreational activities, and Lassen Volcanic National Park, a hydrothermal wonderland with volcanoes and pristine alpine lakes. It's the perfect destination for the adventure-seeking, outdoorsy traveler.
North Central Plumas
North Central Plumas is loaded with country charm and spacious views. Verdant valleys, meandering creeks, historic barns, and working ranchlands are surrounded by rugged mountains and miles of solitude. From outdoor adventures in the National Forest to rodeo days in downtown Taylorsville, it's the optimal vacation spot to kick back and breathe in the fresh mountain air.
South Central Plumas
The twisting, turning Feather River Canyon in South Central Plumas County will take your breath away and is a gateway into the spectacular natural paradise awaiting you in Plumas County. South Central Plumas is home to Quincy, the county's largest community with an eccentric flair, and Bucks Lake, a favorite summer destination. From museums to mountain biking, wilderness adventures to chill lake time, to so much more, it has something for everyone.
Southeast Plumas
Defined by the sprawling Sierra Valley to the east and the adventure-filled Lakes Basin Recreation area to the south, Southeast Plumas holds the headwaters of the Wild and Scenic Middle Fork of the Feather River. The landscapes of Southeast Plumas are unlike any other place in California–where high desert meets high Sierra and the next ridge beckons you to an even more spectacular view. It's an ideal place to satisfy your wanderlust.
KEEP PLUMAS COUNTY CLEAN, GREEN & WILD
We love welcoming visitors to create lifelong memories on our beautiful lands and in our unique communities. Take the Plumas Pledge to help us care for the health of our natural places and the well-being of our communities while visiting Plumas County.
take the plumas pledge!
Prioritize wildfire prevention
Leave places as you found them
Pack out all of your trash—bonus points if you pick up trash left by others! 
Stay on designated trails and camp in designated areas
Check the weather before heading out
Be mindful of your energy and resource usage
Ditch plastic bottles and drink our mountain fresh tap water instead
Choose locally made products and services from local businesses
Slow down and enjoy the simple pleasures of life in Plumas